Housing,Cities and Related Policies after COVID-19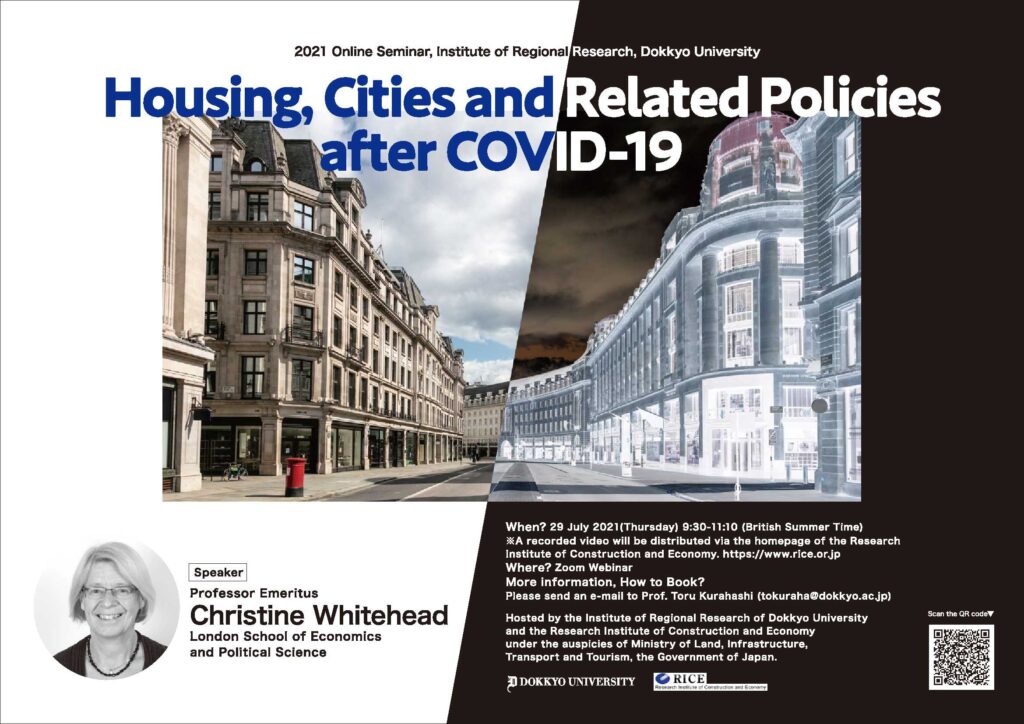 Purpose of the event
COVID-19 has brought about a remarkable impact of an unprecedented scale and our way of living and working. Obviously, matters regarding housing and cities are not exceptions to this. Thus, the question arises as to how housing and cities and their related policies should be after the COVID-19 crisis. Professor Emeritus Christine Whitehead will give us some insights on these issues.
This seminar will take place online and it is free and open to everyone.
Speaker
Christine Whitehead
(London School of Economics and Political Science)
Christine Whitehead is a professor emeritus at the Department of Economics of the London School of Economics and Political Science(LSE).Christine is an internationally renowned scholar of applied economics, specialized in housing economics, finance and policy. In addition to her professorship at LSE, from 1990 to 2010 she was appointed Director of the Cambridge Centre for Housing and Planning Research.
Also, she has worked for the Government and the Parliament of the United Kingdom, and a Variety of international institutions. Currently, she holds a position of advisor to the House of Commons Work and Pensions Committee, and a position of special advisor to the Housing, Communities and Local Government Select Committee.
In 1991, she was awarded the Order of the British Empire (OBE) for her outstanding contributions to the field of housing.
Outline
When? : 29 July 2021(Thursday) 9:30~11:10(British Summer Time)
Where? :  Zoom Webinar
Language : English(Simultaneous interpretation in Japanese)
Hosted by the Institute of Regional Research of Dokkyo University and Research Institute of Construction and Economy Under the auspicies of Ministry of Land, Infrastructure Transport and Tourism, the Government of Japan
Reference material
Information leaflet for this event is here.